Reading
Reading and Phonics
Our approach to reading & phonics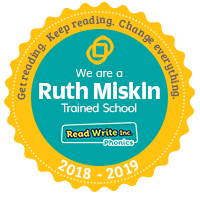 We are a "Get Reading. Keep Reading. Change Everything." school.
We use the highly successful Read Write Inc. Phonics programme to teach our children to read, write and spell. Our children do well in the phonics screening check and by Year 2, the majority are fluent readers with the best chance of success in the KS1 tests.
Ruth Miskin Training recognise us for teaching the programme with fidelity and passion – we know what it takes to make reading and writing pleasurable and rewarding for our children.
This badge recognises that we:
Raise standards in reading and writing for our children
Are all expertly trained by Ruth Miskin Training – including our headteacher and deputy headteacher.
Gain the latest programme updates through regular visits from our Ruth Miskin Consultant Trainer
Support our most vulnerable readers with extra one-to-one teaching every day.
Children are taught RWI from the summer term in Nursery until Year 2 and beyond this if children need to catch up.  Children are grouped according to their reading level, rather than their year group. This means that children do not struggle because the work is too difficult or get bored because the work is too easy.  Children are assessed each half term to ensure that they are in the appropriate group.
Children take home decodable reading books linked to the RWI scheme until they are fluent readers.  They then choose from a selection of short stories and non-fiction texts before they become confident free readers.  As well as this all children also have the opportunity to regularly visit our school libraries and take home a reading for pleasure book. 
As well as being given a home-school reading book, all children receive high quality reading opportunities in school through shared, independent, guided and whole-class reading activities.
From Y2 to Y6 children follow a weekly cycle of whole class reading to develop the skills of comprehending text. They work on visualisation, summarising, predicting, questioning, clarifying and learn when to use background knowledge to help them understand what they are reading.
Comprehension test style activities are used regularly to help children answer questions coherently in test situations, preparing them for end of KS1 and end of KS2 SATS exams.
For further information please see the Reading Policy
Further information for parents
Remember, your child needs to bring their reading folder to school every day! 
Replacements can be purchased in the school office.